Return Group News
Oct 09, 2022
Voice Of CGP | The art of balance for financial management
Interview with Rico Xiao, CFO and COO of CGP Group
---
Rico Xiao, CFO and COO of CGP Group, is responsible for the financial management and functional operation management of CGP Group globally. Rico was once the CFO of Randstad, a Fortune 500 company in the world. He also worked in famous enterprises such as L'Oréal and Accenture. With nearly 20 years of experience in corporate financial management and operation management. Let's know more about Rico's career path and the art of financial management.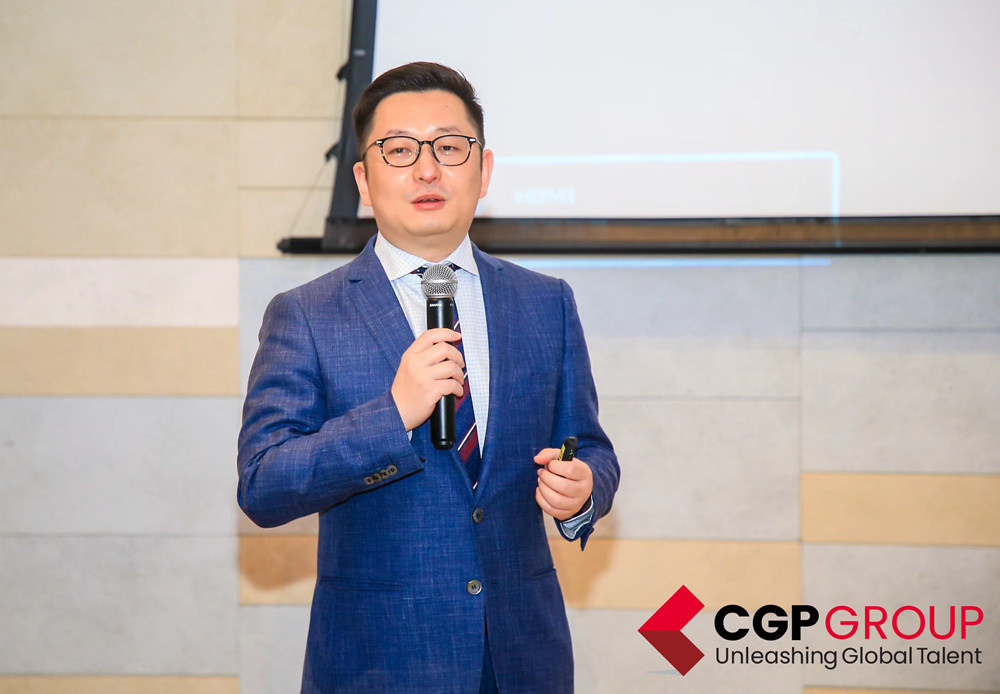 Forward thinking —— break the boundary of financial scope
Rico started from the basic accounting position as most of financial workers. The real turning point happened when he began to think with forward-thinking. "When I thought from an investment perspective, I am thinking about a question: What is the trend of financial work?" Forward thinking refers to scientific judgment and thinking on the development track of future events before the event occurs. It is based on the current fundamental situation and makes directional prediction and planning for the future development. according to the changes of internal and external factors, micro and macro environments, this is a kind of advanced thinking consciousness, pointing out the direction for specific prediction". The new direction identified by Rico was enterprise management and finance integration. Rico said "Financial workers should develop towards the function of business partners, except for mastering financial expertise, they should have sufficient insight and deeply understanding of business module, learn and figure out the logic and methods of corporate governance, change their roles and have the same perspective of CEO, Maximize the value of financial people, so as to achieve upward growth". He said, "Break the boundary of basic financial work is also a painful process of jumping out of the self-comfort zone. It is not only do a good job in your daily work, but also continue to learn advanced knowledge. No one will guide you hand in hand. You need always think, observe, or even try to make mistakes by yourself." Rico's forward-thinking has two steps:
First, grasp the trend of financial work.
Secondly, do things beyond the scope of existing responsibilities, continue to sharpen yourself, and learn to store knowledge and skills.
Weapon of career advancement —— contribute more value than expected
From the manufacturing industry to the consulting industry, then the fast-moving consumer goods industry to the human resources industry, every time he changed his work, Rico moved towards the set goals under the guidance of forward-thinking. Challenges and opportunities coexist, opportunities are always reserved for those who are well prepared
For his first career change, Rico chose Accenture, a world-famous management consulting company. The reason why he chose Accenture was very clear: "First of all, Accenture is a top management consulting company in the world, and is famous for systematic and procedural management. It combines many previous concepts and mechanisms.". At Accenture, Rico participated in the financial sharing center project of the top five Fortune 500 companies in China, including the function building, process standardization and accounting implementation. This project cultivated his concept of financial business partner.
For the secondly career change, Rico joined L'Oréal, the leading enterprise in the FMCG industry, to constantly practice the long-term accumulated ability of combining management and finance, and to realize more value of finance, business operation and enterprise management, this made him become a muti combined skills person who was an expert both for finance and business.
For the thirdly career change, Rico decided to devote himself to the human resources industry. the enterprises in which Rico worked got rapid growth. The business revenue increased from 10% - 20% growth to more than 40% yearly, and no financial compliance accident happened. During his tenure at Randstad, Rico's outstanding performance was unanimously recognized by the leadership team, and he became the youngest director with Asian face of this European company in its 60 years old history. Rico emphasized that "through the analysis of future trends and development, we should prepare the knowledge and skills in the next stage in advance, improve our capabilities in a down-to-earth manner, and contribute more value than expected to the enterprise, so every time we change industries, we can step up a new ladder".
The art of balance —— financial management in the human resources industry
Rico currently serves as the CFO and COO of CGP Group. Standing at a new stage with an international perspective, he has ushered in new improvements and challenges. The biggest challenge is how to find the best balance between the interests of the group and those of employees. Therefore, managers should not only reflect humanistic care, but also make clear the institutional norms, so that there can be healthy balance, helping the enterprise to release more core competitiveness with below instructions:
Firstly, establish a clear promotion system to enable employees to achieve personal development, and build a smooth platform to help employees realize their self-worth.
Secondly, improve the professional level of enterprises, optimize production capacity, improve capital and efficiency, and make more bigger cake.
Thirdly, distribute profits and establish an effective employee incentive system.
The goal of the above three ways is to achieve a win-win situation for the enterprise and employees.
CGP Group's service advantages —— global talent map
Rico firmly believes that CGP will play an important role in China's future talent development. The current international political situation is becoming increasingly complex, and it is very difficult for governments or enterprises to directly hire talents from overseas. Therefore, enterprises with professional service ability to hire overseas talents becomes extremely important. Rico pointed out that CGP Group has expanded talent highlands from outside of China. such as North America and Singapore and has the network and ability to introduce overseas talents. Rico gave an example: "For example, if our client of China needs to hire a biological scientist from the United States, if a call from China, there would be no answer. But CGP has local branches in the United States, and the local staff will communicate and follow up, it will be completely different." In 2020 and 2021, CGP Group successfully hired several important technical talents for China clients from globally. This contribution made CGP Group attained Shanghai Bole Award for two consecutive years.
Rico said "Recommend overseas talents into China is the first step, and our talents will go abroad in the next step. Once China has achieved industrial upgrading, Chinese enterprises will become more competitive after mastering their own core technologies, and they will certainly move to the overseas market, a number of Chinese talents will certainly go abroad. At that time, Southeast Asia, the Middle East, and more areas. CGP Group has deep insight into the trend, and has already established layout in Thailand, Vietnam, the Middle East, and other places in advance, and builds a cross regional and cross-national service capability for talents to go the global world ".
Only with forward-thinking model can we observe the changes in the market and perceive the pace of development in advance, which is always a step faster than the times. When the opportunity arises, we can follow the trend, guide ourselves according to the situation, seize the opportunity and take advantage of it. This forward-thinking pattern has become a sharp tool for Rico's career development. It is believed that in the future, this methodology will enable Rico to master the rules, keep the pulse steady, and make greater contributions to the development of CGP Group.