Return Our Industries
Consumer
OVERVIEW
Our market-leading Consumer team has completed over 700 mid- to senior-level searches across all functions. Each one of our experienced consultants specializes in a specific functional area, ensuring a thorough understanding of both the clients' and candidates' needs.We have a global database of over 25,000 consumer industry talents across all functions and channels, including retail, E-Commerce, hotels, restaurants, catering, importers, and distributors.
SPECIALIZATION
Food & Beverage

Consumer

Food Ingredients

Fresh Foods

Beverage

Packaged Foods

Beer, Wine & Spirits

Dairy

Nutrition

Mum & Baby Care

Cosmetics

Consumer Electronics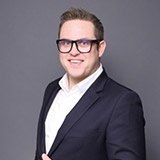 Kourosh Asghari
Director of Chemical, Consumer & Education Industry

Kourosh has worked many years in both in-house HR roles and headhunting roles. Since 2012 he has had a specifically focused on HR and Recruitment within the FMCG and consumer industries in China. In the meantime, he also leads a professional team for the education and chemical industries. Kourosh has developed and led one of the most successful recruitment teams in China, supporting over 200 people in the industry find their next career move in 2018.
Kourosh focuses on strong relationships and networks with the top candidates in commercial disciplines in the consumer industry and has a strong record of successfully placing these candidates with clients through evaluating their expertise, cultural adaptability and motivations against the client's requirements. A key differentiator for Kourosh and his team is their focus on long-term business relationships which satisfy both candidates and clients through professionalism, perspective, commercial acumen, HR expertise, strict adherence to best practice recruitment philosophies and genuine hard work. As a result, Kourosh has been consistently one of the top three performers out of 400 employees at CGP for the last three years.